Trexo Wheels Robotic Dolly Open Box and Hands On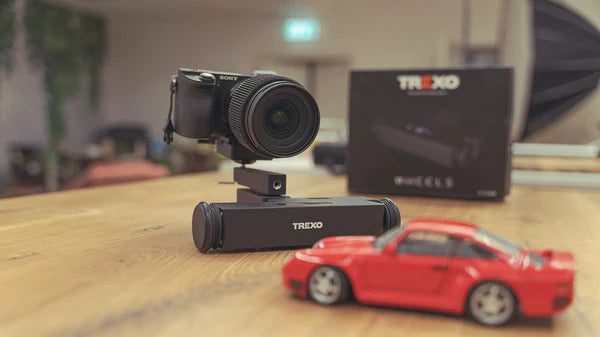 We just got our hands on the new Trexo Wheels which is currently raising money on Kickstarter. This is not going to be a full review – this will take some time as we are still learning how to use this nifty little robot and there might also be some important firmware and app updates until the product will start shipping to users in late 2020, but we did want to show you a look at what you will be getting in the box plus a quick demonstration of some of the features of this unit.
In the box you will find a nice hard case, in it, you will get Trexo Wheels launch pad black and white turntable plate that will also let you use the Trexo Wheels as a motorized pan head, smartphone clamp, and a small arm with a tiny ballhead and finally the Trexo Wheels itself with a USB-C to USB-A cable for charging (you should also be able to get a special cable for controlling your camera although it didn't come with our review sample).
So what can you do with the Trexo Wheels? well, after you turn it on by opening the unit you can let it move in a straight line forward or back, move in a circle around a product all relatively simply from the unit itself by moving it with your hand or controlling it with the app. Using the app, which by the way connected immediately with no action necessary on our part (and stayed connected even after restarting the phone or unit) lets you do some more complex moves directly from your smartphone.
One interesting feature has to do with the Trexo Wheels launch pad. You basically put it next to the Trexo Wheels take a picture with the app and tell the unit where and how to move and it does that.
Based on our very brief experience with the unit we suggest that you start by using the Trexo Wheels on the floor before you move over to a table just to be on the safe side. We are still learning how to use the unit (there is a learning curve), reading the manual, and talking to the company to understand some things and we hope to bring you a more comprehensive review later on but even at this early stage, we can say that the unit certainly has a lot of potential especially for product and food videography which is the main reason why we are so interested in it although in the right hands it can be useful for other things as well.
The Trexo Wheels with its app